Go Hard Core – Carry Everything!!
In caminos around the world it is most common to carry everything on one's back. However with greater distances and less stops on the Aussie Camino  it has been the usual custom to use a back up vehicle that can carry additional items.
However this need not be the case. The terrain and climate provides mild conditions most of the year and there is no need to take camping, cooking and bedding equipment. This  will lighten your pack considerably and will enable good walkers to carry everything on their backs.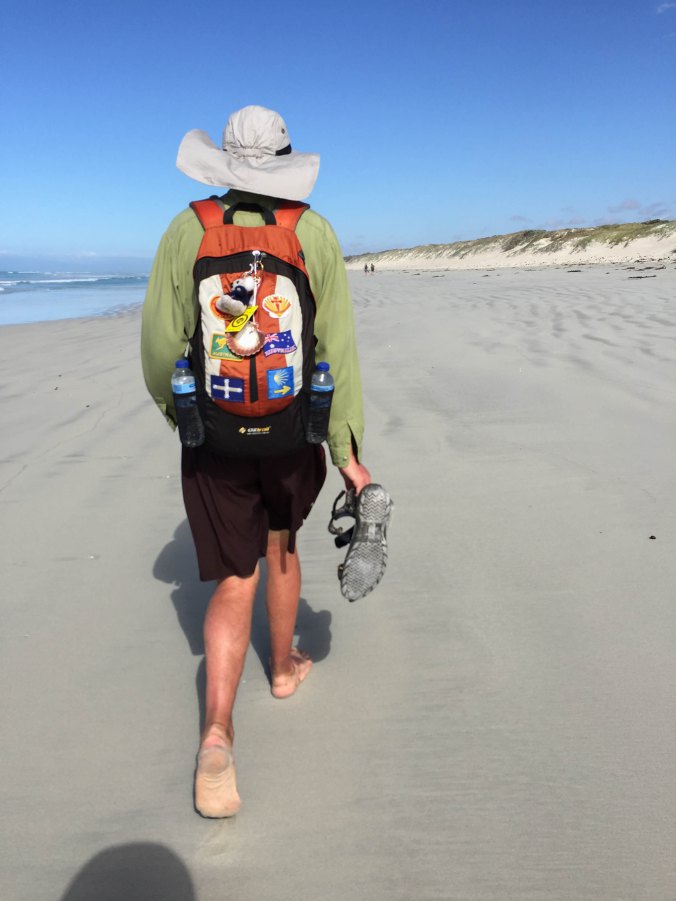 John Monaghan (pictured above) is a hardened pilgrim a veteran of 3 caminos to Santiago and carried no more than 4.5kg in his pack on each of his caminos. That's 800km over 30days!!  Yes that's John's entire pack that he carried on his back on the Aussie Camino in December 2014. There is something delightfully liberating about carrying everything in one's own pack and it forces the pilgrim to make difficult choices about superfluous equipment.
John was good enough to share his list which will enable the pilgrim to pack frugally.
John's List
Credit & ATM cards + Cash
Mobile Phone & Camera + batteries/chargers
Aussie Camino maps/info booklet + pen & paper for diary notes
Sunglasses & sunscreen
Backpack – small, securely fitting hips so these carry weight not shoulders
Walking gear – shorts, long sleeve shirt, sandals or runners or boots
Camelback water bladder or refill plastic water bottles each day
Hat – preferably wide-brim &/or foreign legion type to cover neck
Light jacket eg zip-up sports top for cool early starts & evenings
Spare T-Shirt + lightweight long pants + light belt + jocks + hanky
Backpack rain cover + kitchen tidy bin liner for clothes inside if backpack leaks
Poncho or raincoat or lightweight waterproof hooded jacket
Sleeping bag liner – lightweight silk instead of heavier/bulkier cotton
Microfibre towel, soap, bandaids, toothbrush & paste (small tube)
Ibuprofen or panadol, pawpaw or similar cream for cuts, blisters etc
Needle & thread for blisters
Beanie & gloves if winter
Bumbag for carrying phone, camera, wallet
Hydralyte tablets
Lightweight sandals, thongs or crocs for after walk